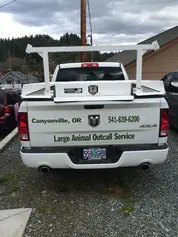 Countryside Veterinary Service has a large animal out-call truck that is fully equipped to handle your large animal needs.
We offer services for horses that include dentistry, wellness and vaccinations, lameness evaluations, portable radiology and ultrasound, reproduction and foal care, urgent care of colics, lacerations, and euthanasia.
We also offer services for cattle, goats, sheep, lamas, and pigs, and several of our doctors have a special interest in herd health and livestock care.
Our truck can be seen on the road serving the neighboring communities of Canyonville, Myrtle Creek, Winston, Riddle, Glendale and Azalea. If you are interested in scheduling a large animal out-call, call our Canyonville office at
541-839-6200

If you are interested in learning more about large animal dentistry, check out this YouTube video